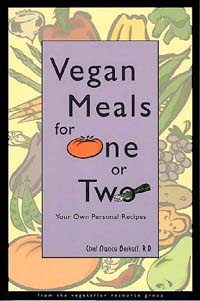 Chef Nancy Berkoff's book Vegan Meals for One or Two is published by The Vegetarian Resource
Group. Each recipe is written to serve one or two people. Recipes are designed
so that you can realistically use ingredients the way they come packaged in the
store. Here are two recipes from this cookbook featuring summer produce.
Pasta in Paradise
(Makes 2 servings)
This dish is colorful,
with an unexpected secret ingredient (psst… it's the mango).
4 ounces uncooked
vermicelli, rice noodles, or spaghetti
1/4 cup red or yellow
bell pepper strips (about 1 medium pepper)
1 cup ripe chopped
papaya (about 1 small papaya)
1 cup ripe chopped
tomatoes (about 1 medium tomato)
1/2 cup ripe, chopped
mango (about 1 half mango or look for frozen cubes)
2 Tablespoons chopped
fresh cilantro or flat leafed parsley
2 teaspoons olive oil
1/4 teaspoon cinnamon
1/2 teaspoon white
pepper
2 Tablespoons chopped
peanuts
Cook pasta according to package directions. Rinse, drain,
and set aside to cool. In a large bowl, combine pepper, papaya, tomatoes,
mango, cilantro, oil, cinnamon, and white pepper and toss to mix. Add pasta and
toss to mix. Top with peanuts.
Total Calories Per Serving Using Rice Noodles and Cilantro:
376
Total Fat as % of Daily Value: 15%     
Protein: 7 gm     
Fat: 10 gm      Carbohydrates: 68
gm      Calcium: 44 mg     
Iron: 2 mg     
Sodium: 19 mg      Dietary Fiber:
4 gm
Grilled Corn on the
Cob, Curry Style
(Makes 3 ears or 3 servings)
This dish is so
luscious! You'll never eat plain corn on the cob again.
3 ears unhusked corn
on the cob
3 Tablespoons
unsweetened coconut milk
3 teaspoons chopped
fresh cilantro (or fresh parsley) 
3 teaspoons curry
powder
1 teaspoon red pepper
flakes
Peel back the husks from the corn and remove the silk (but keep the husks intact). In a small bowl, combine remaining ingredients. Brush mixture on the corn and pull husks back over the corn, so kernels are covered. If husks won't stay, use thin strips of foil as closures. Place the corn on the grill, turning frequently for approximately 15 minutes or until the husks have dried out and the kernels begin to brown.
Note: If there's
no barbecue grill available, you can use the same technique in a 475-degree
oven.
Total Calories Per Serving: 90      Total Fat as % of Daily Value: 2%     
Protein: 3 gm     
Fat:  2gm      Carbohydrates: 19 gm      Calcium: 17 mg     
Iron: 1 mg     
Sodium: 22 mg      Dietary Fiber:
4 gm
In the USA only you can purchase this paperback book here: vrg.org/catalog/
The book is also available on Kindle here: Vegan Meals for 1 or 2 on Kindle