Posted on
July 22, 2020 by
The VRG Blog Editor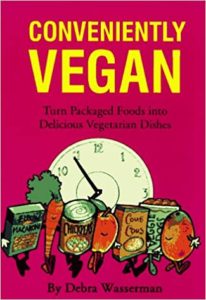 The Vegetarian Resource Group is
publisher of Conveniently Vegan, by
Debra Wasserman. In this book you will find 150 recipes using convenience foods
along with fresh fruits and vegetables. Here are two summer-friendly recipes
from this book:
CARROT/DATE/PEACH
SALAD
(Serves 5)
Enjoy this delicious
blend of ingredients.
6-7 carrots (1
pound), peeled and grated
4 medium ripe
peaches, pitted and finely chopped
5 ounces pitted
dates, finely chopped
1/2 teaspoon cinnamon
1/2 cup peach or
orange juice
Mix all the ingredients together in a large bowl. Refrigerate
at least one hour before serving.
Total calories per serving: 158     Fat: <1 gram    Total Fat as % of Daily Value: <1% Protein: 2 grams   
Iron: 1 mg    Carbohydrates: 40
grams    Calcium: 39 mg    Dietary fiber: 6 grams   
Sodium: 33 mg
FRUIT PIZZA
(Serves 4)
Here's a beautiful
looking dessert that both children and adults will enjoy. You can also
substitute several small pita breads for the large pita bread.
1 large 12-inch wide
pita bread
1 cup unsweetened
apple butter
1 kiwi, peeled and
sliced
6 large strawberries,
sliced
1 apple or pear —
peeled, cored, and thinly sliced
1/4 teaspoon cinnamon
Spread apple butter over pita bread.  Arrange slices of fruit on top of apple
butter.  Sprinkle with cinnamon.  Serve as is or heat in 350 degree oven for 15
minutes and serve warm.
Total calories per serving: 269    Fat: 1 gram    Total Fat as % of Daily Value: 2% Protein: 4 grams   
Iron: 1 mg    Carbohydrates: 48
grams    Calcium: 48 mg    Dietary fiber: 2 grams   
Sodium: 162 mg
In the USA only you can purchase this paperback book here: https://www.vrg.org/bookstore/index.php