Posted on
June 26, 2020 by
The VRG Blog Editor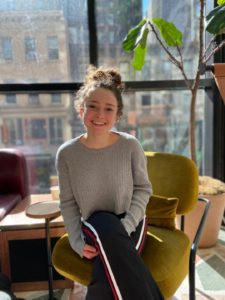 Emma Sodie's vegan journey began when she was 13-years-old. She stopped purchasing and consuming all animal products – meat, dairy, eggs, leather – "and I never looked back," she stated.
     Emma did internships at Compassion Over Killing and The Humane League. She assisted with a MeatOut campaign, volunteered at Poplar Spring Animal Sanctuary, and NBC 4 Health and Fitness Expo tabling event. She also conducted research on veganism in local media, wrote articles and created presentations on factory farming, and attended a "I'm Not Lovin It" protest.
     While leading her Environmental Ethics club in high school, she screened the movies "Earthlings" and "Cowspiracy." She also arranged a vegan food tasting at her school sponsored by VegFund. In addition she set-up a meeting with her school's lunch program coordinator to advocate for more vegan options. They have since added tofu to the salad bar, and made sure that at least one vegan option is available every day.
     Emma's favorite subjects are physics and chemistry. She hopes to pursue a career that helps animals in some way, whether that means working for an animal rights organization or opening her own vegan restaurant.
     We had 280 incredible applicants for the VRG Scholarship Contest in 2020. We wish we could give awards to all of these amazing teens. The deadline for applications for 2021 graduating high school seniors for college scholarship awards is February 20, 2021. To see rules and other scholarship winners, go to https://www.vrg.org/student/scholar.htm
To support other scholarships and internships, donate at www.vrg.org/donate