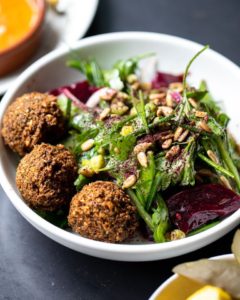 The Vegetarian Resource Group maintains an online Guide to Vegan/Vegetarian Restaurants in the USA and Canada. Here are some recent vegan restaurant additions. The entire guide can be found here: http://www.vrg.org/restaurant/index.php
To support the updating of this online restaurant guide, please donate at: www.vrg.org/donate
Here are some new additions to VRG's guide (Note: Due to the coronavirus pandemic many are doing take-out and/or delivery now):
Green Gene Vegan Café, 2300 Central Ave. SE, Ste. B, Albuquerque, NM 87106
Green Gene Vegan Café is a restaurant that truly puts growing fresh food and supporting local businesses at the top of their priority list. Most produce used is from their own farm, and the menu is entirely plant-based. They offer American favorites like burgers and hot dogs along with international favorites like Jamaican patties. During regular hours, a Sunday brunch is offered, and they have patio rental opportunities for events. Local's favorites include the Trinidad Doubles and their hand-made desserts.
Mama Sesame, 4529 SE Division St., Portland, OR 97206
This is a vegan gluten-free Mediterranean falafel café. They have variations on falafel/veggie bowls including the Cardamom Rice Bowl, Market Veggie Bowl, Kale & Beluga Lentil Bowl, and Quinoa Tabbouleh Bowl.
My Vegan Panda, 201 E. 4th St., Santa Ana, CA 92701
My Vegan Panda is located within the 4th Street Market in Santa Ana. Their offerings include panda bowls, banh mi, and their "naughty rolls" that allow you to say goodbye to the days of scouring your old sushi restaurant's menu for plant-based specialty rolls. Their most popular sushi offering, the Sumo Sushi Burrito, is the perfect example of Asian-Fusion with its spicy jackfruit, colorful vegetables, and fried exterior.
Plant Bae, 175 Lee St., Montgomery, AL 36104
Plant Bae serves "All-American" vegan fare such as nachos, plant-based burgers and spicy chicken, fries, and wings along with in house drinks and desserts.
Sealevel City Vegan Diner, 1015 S. Kerr Ave., Wilmington, NC 28403
From their best-selling Chickpea Avocado Lentil Burger to their aquafaba-topped Sweet Potato Pie, Sealevel City Vegan Diner gives Wilmington residents and visitors their vegan American food fix.  Located less than a mile from the UNC Wilmington campus, other popular dishes include the Carolina Dog, Kimchi Tempeh Reuben, and Kale Nachos. About half of their produce is local and organic, and all packaging is compostable. Be sure to check out their Facebook and Instagram pages for daily specials like Strawberry Cheesecake Bars and Homemade Vegan Pimento Cheese!
Square One Café, 185 Jay St., Schenectady, NY 12305
Square One Café is a vegan breakfast and lunch eatery in downtown Schenectady. It is an expansion/reimagining of the owner's Happy Cappuccino coffee shop located in the same space. They serve vegan takes on classic breakfast sandwiches, bagels, lunch sandwiches, and burgers.
Tarantino's Vegan, 7960 South Rainbow Blvd., Ste. 8000G, Las Vegas, NV 89139
Tarantino's Vegan takes traditional Italian American dishes and puts their vegan spin on them. Italian classics like Chicken Parmesan, Caprese, and Lasagna are made vegan with ingredients such as Almond Ricotta, Mozzarella, and Chick'n. Their pasta bar offers a wide variety of pastas, sauces, and vegan proteins to choose from, including gluten-free options.  Don't miss out on their delectable desserts, ranging from Tiramisu to Napoleons to Chocolate Cake!
The Plot Restaurant, 1733 South Coast Hwy., Oceanside, CA 92054
Enjoy upscale food such as roasted cauliflower, sushi, farrow salad, "chicken" and waffles, and polenta with chorizo, as well as desserts including dark chocolate torte, spiced apple pie, and pineapple cherry upside cake.
Ye's Asian Vegan, 2469 Hilliard Rome Rd., Hilliard, OH 43026
This is a vegan Asian Restaurant with Chinese, Japanese, and Thai Food. There are some interesting items on the menu including Cold Green Tea Noodles and Thai Basil Sauce over mixed vegetables.