Posted on
June 25, 2020 by
The VRG Blog Editor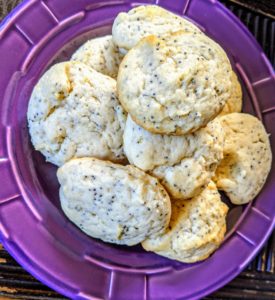 By Rissa Miller, Senior Editor Vegetarian Journal
(Makes about 26-28 cookies)
Something about lemon sings of summertime. Think lemonade or  vinaigrette on salad. In that cheerful tradition, here is a recipe for lemon poppyseed cookies. They have a bright, uplifting flavor and can pair with iced tea or accent a dish of vanilla-coconut ice cream nicely. Not as heavy as a muffin, they are a subtle, summery finish for any hot-weather meal, and also pack well to take on hikes with family or friends.
1-1/2 cups all purpose flour
1 Tablespoon arrowroot starch (or cornstarch)
1/2 teaspoon baking powder
1/4 teaspoon baking soda
1/2 cup vegan sugar
1/2 cup vegan margarine, softened to room temperature
1 teaspoon vanilla extract
1 teaspoon lemon extract
Zest and juice from one lemon
1 Tablespoon poppyseeds
Preheat oven to 350 degrees. Line two baking sheets with parchment paper or silicone baking mats. Set aside.
In a  bowl, mix flour, arrowroot, baking powder and baking soda. Set aside.
In a second bowl, combine sugar, margarine, extracts, and lemon zest and juice. Blend using a hand mixer or wooden spoon until smooth and creamy. Add dry ingredients and poppyseeds, and mix again until a stiff dough forms and seeds and uniformly distributed throughout. If there is leftover dry flour, you may have had a not-very-juicy lemon and might need to add a little water or plain soymilk. Add by the tablespoon until dough comes together; don't overdo it, this isn't a runny cookie dough.
Scoop by tablespoon-full onto prepared cookie sheets. Bake at 350 degrees for 8-12 minutes, until cookies are firm, edges are lightly browned, and kitchen smells fragrant. Allow to cool on cookie sheet ten minutes before serving.
Trackback: trackback from your own site.