Posted on
June 23, 2020 by
The VRG Blog Editor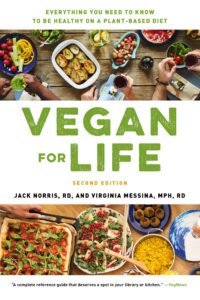 By Reed Mangels, PhD, RD
I can't think of a more perfect book title than Vegan for Life. This classic, first published almost 10 years ago, is a practical handbook for being vegan for life – for your life, for the animals' lives, and for our planet's life.
Recently, Jack Norris, RD and Virginia Messina, MPH, RD, extensively updated and revised their book. This revised edition has the same calm, sensible tone as the original edition did. It's been updated to include the latest research on topics relevant to vegans including fat (how much? What kind?), vitamin B12, digestive health, food allergies, and even lesser known nutrients like choline and selenium. The authors are both vegan dietitians and the book reflects their commitment to honest, evidence-based information.
This is not a dry, nutrition text, however. The authors provide lots of practical information including sample menus, lists of foods, and a food guide. There are also chapters on vegan pregnancy, children and teens, older people, and athletes. The chapter on transitioning to a vegan diet was one of my favorites because of its ideas for simple dinners, packed lunches, and ways to use beans.  Even as a long-term vegan I found lots of helpful ideas for fine-tuning my diet. 
This book offers resources for new vegans, for those considering being vegan, for vegans of all ages, for seasoned vegans. I plan to urge my local library to order several copies – it's that good.
Vegan for Life, 2nd edition (ISBN: 978-0-7382-8586-3) is published by Hachette Books. It has 334 pages and retails for $17.99.