Posted on
June 22, 2020 by
The VRG Blog Editor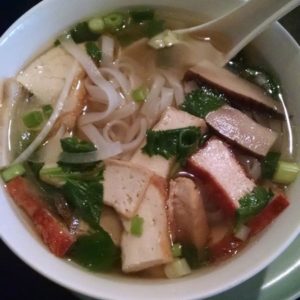 By Abby Mudd, VRG vounteer
Based in Louisville, KY, Roots is a great option for Asian vegetarian dine-in or carry out. I always enjoy eating at Roots and have never been disappointed. Not only do they offer amazing vegan and vegetarian dishes, they also provide fast service and the food is always fresh. Additionally, they have a wide variety of unique and tasty meatless options to choose from.
My partner and I ordered takeout from there for the first time (due to Covid-19) and were once again very impressed. We started with an order of the crispy egg rolls (comes with 2) and pan-fried pot-stickers (comes with 5) and then split the Thai salad, orange tofu, and crispy shiitake mushrooms for our entrées. The orange tofu and shiitake mushrooms don't come with rice, so we got an order of that as well. However, the portion sizes are pretty adequate, especially if you are getting more than just entrées. The Thai salad is a good size and could be eaten as an entrée. 
I love appetizers and really enjoyed the egg rolls and pot-stickers. They are always a great go-to. The egg rolls were super crispy and had a tofu and veggie filling. My favorite were the pot-stickers, which came with a soy and sesame sauce. The Thai salad was full of flavor and I liked that they added sesame seeds to it. The ginger dressing really pulled everything together. They did have it mixed in, so if you prefer dressing on the side I would mention that. The orange tofu was very tasty and came with red pepper, zucchini, and snow peas. The sauce was sweet but not overpowering. Lastly, the shiitake mushrooms were exceptional. The dish was cooked to perfection and the mushrooms had a great texture. There was a good balance of mushrooms and vegetables, and it was very filling.
If you're looking for veggie, Asian cuisine, I highly recommend Roots. You won't be disappointed. I will be getting takeout again very soon!
For more information about Roots, see http://www.heartandsoy.net
Other veg restaurants in the USA and Canada can be found at https://www.vrg.org/restaurant/index.php