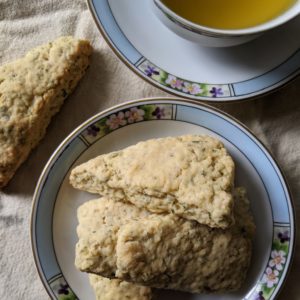 By Rissa Miller, Senior Editor Vegetarian Journal
As gardens are coming into bloom in early summer, it's easy to fall into the familiar with an herb garden. While mint tea is a wonderful and refreshing summer beverage, give these bright and flavorful scones a try. Mint and lemon combine for the perfect bite of summer!
Scones with Fresh Mint (Makes 16 scones)
2½  cups all purpose flour
1 Tablespoon baking powder
1 Tablespoon arrowroot
¾ cup cold plain vegan creamer (such as soy or coconut)
½ cup organic sugar
Zest and juice of one lemon
2 Tablespoons fresh mint, finely chopped
1 teaspoon vanilla extract
½ teaspoon mint extract (optional)
½ cup cold vegan margarine
Preheat oven to 400 degrees. Line a baking sheet with parchment or a silicone baking mat. Set aside.
Stir together flour, baking powder and arrowroot in a large mixing bowl. Add vegan creamer, sugar,  lemon zest and juice, chopped fresh mint, and extracts. Stir with a wooden spoon until well combined. There will still be dry flour in the bowl.
Using a pastry cutter, fork, or your hands, cut the vegan margarine into the scones, breaking into pieces about the size of peas. Continue mixing until dry flour is absorbed. If needed, add a little more creamer one Tablespoon at a time, until dough forms a ball. Dough should hold in a ball form without being overly sticky.
Flour a work surface and turn out dough. Using your hands, form into a rectangle about ½-inch thick. Cut into 16 triangles and place on prepared baking sheet.
Bake at 400 degrees for 15-22 minutes, until dough is cooked through, slightly puffed up, and scones are faintly browned on edges. Allow to cool on baking sheet for 10 minutes before moving.
Serve warm with strawberry jam or vegan lemon curd and a cup of hot tea!
Try this variation: Use lime instead of lemon to make the scones mojito-flavored!