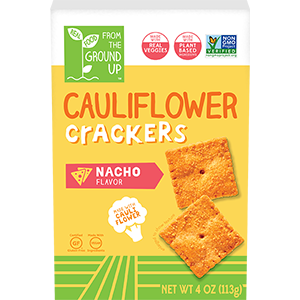 Each issue of Vegetarian Journal features a column called Veggie Bits where we review vegan products. Miyoko's Roadhouse Cheese Spreads are cashew cheese spreads that are available in Biergarten Garlic Chive, Cheers to Cheddah, and Spicy Revolution flavors. They are perfect for any party! Next, we looked at Better Wine low-alcohol cans available in four tasty options: Dry Rosé Cider, Nitro Rosé Spritzer, Red Wine Spritzer, and White Wine Spritzer.
Daiya's burritos are easy-to-heat. For breakfast, try Homestyle or Fiesta varieties. Savory burritos include Santa Fe, Santiago, Tex-Mex, and Tuscan. The Sante Fe burrito has a mix of saucy and spicy ingredients, including peppers, potatoes, rice, and meatless crumbles, making it one hot enchilada! Tex Mex includes beans, rice, and a variety of spices that combine for a complex, bold taste loaded with different textures.
Finally, From the Ground Up's Cauliflower Crackers are really made from cauliflower and come in cheddar, nacho, and sea salt flavors. You can also get them shaped like stars (adorable floating in tomato soup) in cheddar and pizza flavors.
Read the complete product reviews here: https://www.vrg.org/journal/vj2020issue2/2020_issue2_veggie_bits.php
To subscribe to Vegetarian Journal in the USA, see: https://www.vrg.org/member/2013sv.php
You can also subscribe to the Kindle version of Vegetarian Journal in the USA and United Kingdom. In the USA, visit: https://www.amazon.com/dp/B07LBY2Y7K/ref=sr_1_1?ie=UTF8&qid=1544727482&sr=8-1&keywords=B07LBY2Y7K  In the United Kingdom, visit: https://www.amazon.co.uk/dp/B07LBY2Y7K/ref=sr_1_1?s=digital-text&ie=UTF8&qid=1544731957&sr=8-1&keywords=B07LBY2Y7K