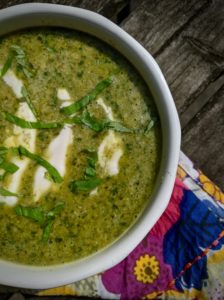 By Rissa Miller, Vegetarian Journal Senior Editor
This soup is flavorful and bright, with hearty broccoli, sunny lemon, and creamy white beans all puréed together for an easy supper or lunch. It's not necessary to pre-roast the broccoli, but it adds depth and deliciousness.
Creamy Broccoli Soup with Lemon and Basil
(Serves 8)
6 cups broccoli (approximately 1 head)
1 teaspoon lemon pepper
2 teaspoons olive oil, divided
1/2 cup chopped onion
3 cloves garlic, minced
6 cups water or vegetable broth
15 ounce can white beans, rinsed and drained (chickpeas work, too)
4 cups fresh spinach (or frozen and thawed)
1 Tablespoon fresh basil (or 1 teaspoon dry)
1 Tablespoon miso
zest and juice of one lemon
Salt, to taste (optional)
Preheat oven to 375 degrees. Chop broccoli into equally sized pieces and toss with lemon pepper and half of the olive oil in a baking dish. Roast, uncovered, until lightly browned and fragrant, about 30-40 minutes.
Meanwhile, sauté onion and garlic in a soup pot over low heat until soft and lightly browned. Add water (or vegetable broth) to the pot, as well as white beans. Simmer over low heat. Add broccoli from the oven as soon as ready and bring soup to a boil. Once boiling, turn off heat, cover, and add spinach, and cover. Allow to sit and wilt spinach for 15 minutes. Just before blending, stir in basil, miso, lemon zest/juice, and salt, if using.
Add soup in batches to a blender or food processor. Blend until smooth. Serve warm with crackers or bread.