Posted on
October 14, 2020 by
The VRG Blog Editor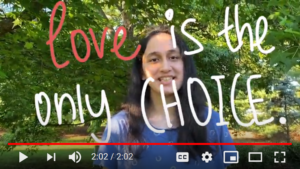 By Ishva Mehta
Ishva is a winner of The Vegetarian Resource Group video
contest. Ishva stated: I have been vegetarian my entire life. Hence, meat
consumption has always been foreign and baffling to me. However, only recently,
I ventured into veganism & plant-based living for moral reasons, and I already know that I am not turning back. Leaving dairy was
difficult, but it is worth it. Now, not only do I notice a difference in my
skin and overall health, but I also feel a sense of relief because I no more
feel guilty when looking down at my plate. In my poem, "CHOICE," I
try to explain the wrongfulness in animal-product consumption
that I experienced consuming dairy, ultimately striving to inspire masses to
make the right choice.
To see her video, go to: https://www.vrg.org/veg_videos.php