Posted on
June 02, 2020 by
The VRG Blog Editor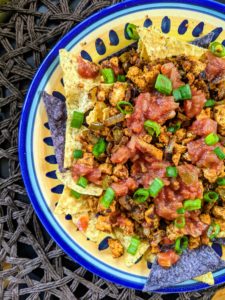 This recipe is from Cristen Scifo, a dietetic intern who visited The Vegetarian Resource Group's office as part of an educational opportunity in 2019. Cristen and her fellow students from University of Maryland all brought vegan food to share with classmates and the VRG staff. This Tofu Chorizo was so delicious and such a hit with everyone, we had to ask for her recipe to share.
TOFU CHORIZO
1 Tablespoon olive oil
1 red onion, finely chopped
1 clove garlic, minced
1 bell pepper, chopped (any color)
Salt, to taste
1 block firm tofu, drained and crumbled
1 teaspoon chili powder (or to taste)
1 teaspoon ground cumin
1 teaspoon dried oregano
Juice of 1 lime
Chopped green onions to garnish, optional
Sliced avocado, to garnish, optional
Salsa, to serve
Tortilla chips, to serve
Warm oil in skillet and add garlic, pepper, and onion over medium heat. Sauté until soft, about 5 minutes, and add salt to taste. Crumble the tofu into the pan. Cook over medium heat, stirring the tofu occasionally until it has browned. Some of it will stick to the pan and that is normal. The cooking process will take anywhere from 10-20 minutes depending on how well you drained your tofu. Once browned and crisp, add chili powder, cumin, oregano, and lime juice. Garnish with chopped green onions or sliced avocado if you want. Serve with vegan salsa and lots of tortilla chips. This recipe easily doubles for larger crowds or family movie night. You could also use it for tacos or wraps.