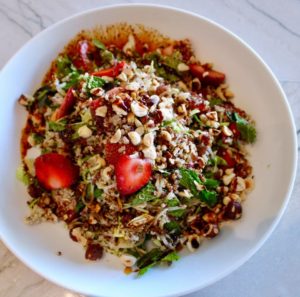 The Vegetarian Resource Group maintains an online Guide to Vegan/Vegetarian Restaurants in the USA and Canada. Here are some recent vegan restaurant additions. The entire guide can be found here: http://www.vrg.org/restaurant/index.php
To support the updating of this online restaurant guide, please donate at: www.vrg.org/donate
Here are some new additions to VRG's guide (Note: Due to the coronavirus pandemic many are doing take-out and/or delivery now):
Above Ground
2170 Mission St., San Francisco, CA 94110
Full vegan bar and kitchen with an eclectic menu serving some pub grub as well as more high-end vegan food and drink. Enjoy a Crusted Tofu Sandwich, Black Garlic Glazed Tempeh, Penne Pasta Grain, and more. Also an assortment of unusual pizza choices.
Kale My Name
3300 W. Montrose Ave., Chicago, IL 60618
If you're looking for a delightful and vibrant local restaurant to support, look no further. Kale My Name's globally inspired menu incorporates fresh ingredients like kale into every menu item, ensuring that all foods are nutrient-dense and delicious. Customers are already raving about the menu offerings like soups, empanadas, and desserts, and the restaurant gets extra points for using non-plastic packaging for orders.
Oh My Soul Café
3046 N. Davidson St., Charlotte, NC 28205
Oh My Soul Café has roots in South Africa. Stop by to see Oh My Soul Café's unique, creative aesthetic and taste some of their burgers and 'fully loaded sweet potatoes', as well as waffles for brunch.
Pixie Retreat
1670 SE 3rd Ave., Portland, OR 97214
432 NW 11th Ave., Portland, OR 97209
3845 N Mississippi Ave., Portland, OR 97227
Pixie Retreat features a number of grab and go items that are all vegan, organic, gluten free, and soy free. Check out fun options like the Bakn' Cheez Burger Wrap or the Mock BLT. The menu also features sides and seasonal options. Those seeking sweet treats can opt for dessert options like the Almond Butta Cup or Donky Bar. Fans of Pixie Retreat can check out the deli and condiment options they have to sell and take home as well. Hours vary by location, so call ahead for hours of operation.
Ras Plant Based
739 Franklin Ave., Brooklyn, NY 11238
Described as having a "great" atmosphere in reviews, this vegan organic restaurant serves Ethiopian food in Crown Heights. Ras Plant Based aims to be eco-friendly while offering piassa and mercato platters, teff injera as a side, and much more. Additionally, one can enjoy the distinctive paintings that adorn the walls of this restaurant.
Spirit Elephant
924 Green Bay Rd., Winnetka, IL 60093
Vegetables take center stage here and delicious dishes serve them in a whole new light. A large wine list and fresh ingredients along with a creative menu make Spirit Elephant a great spot for a cozy evening of plant-based eating. From fig flatbread to French fries you'll find something for everyone in the family. The kids menu features favorites like burgers and mac and cheese and the more adventurous visitors will enjoy the Pistachio-Crusted Tofu, Crabless Cakes, Beet Carpaccio, and don't forget to try a visitor favorite- the Cauli-Wings with Buffalo or Wasabi-Dijon sauce.
Sushi Love
209 7th St., Oregon City, OR 97045
Using 100% plant-based and gluten-free ingredients, Sushi Loves' extensive menu is perfect for people of all tastes and various diets, from die-hard sushi lovers to gluten-free vegans to food fanatics. Whether you try the Avalon roll with jack fruit crab, Tiki Torch with pineapple and soy curls, or the Don't be Shellfish roll with oyster mushrooms and avocado, you won't be disappointed.
The Nile Vegan
1479 Worthington St., Columbus, OH 43201
The Nile Vegan, located near The Ohio State campus, offers a wide array of colorful vegan foods. Menu items include their popular mushroom and chickpea combos to be eaten on top of injera, a tarte flatbread. Diners can also enjoy a chai tea or brewed Ethiopian coffee with their meal, or they can take their food to-go.
Life—The Vegan Drive Thru
3310 Del Prado Blvd. South, Cape Coral, FL 33904
Offering vegan versions of classic "American" food, including breakfast sandwiches, burgers, "tuna" melts, smoothies, and an assortment of specialty coffees, fresh-pressed juices, soups, and salads. They have a drive-thru window.