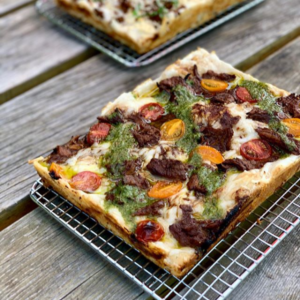 The Vegetarian Resource Group maintains an online Guide to
Vegan/Vegetarian Restaurants in the USA
and Canada.
Here are some recent vegan restaurant additions. The entire guide can be found
here: http://www.vrg.org/restaurant/index.php
To support the
updating of this online restaurant guide, please donate at: www.vrg.org/donate
Here are some new
additions to VRG's guide (Note: Due to the COVID-19 pandemic many are doing take-out
and/or delivery now):
Boxcar Pizza, 2701 NE Sandy Blvd.,
Portland, OR 97232
This pizza joint is
located in a popular food court known as The Zipper. They are serving up 8×10
inch Detroit-style pizzas with the characteristic rectangular shape and thick,
chewy crust. Although the toppings don't sound (or taste) vegan, no menu items
contain any vegan ingredients, not even the coconut-oil based cheese. You can
find classic pizzas like cheese or pepperoni; but if you want to order
something more adventurous, try the steak and chimichurri or Nashville not
chicken options. There is even a gluten-free menu available with all the same
menu items so no one has to miss out on an indulgent vegan meal.
Cascabel Vegan, 1415 Murray Bay St.,
Houston, TX 77080
Their menu includes
appetizers, soups such as Tortilla Soup, entrees including Quesadillas, Tacos,
and Burritos, sides, and desserts. The owners aim is to provide delicious vegan
meals that didn't feel like a substitute for something better. Their reviews
seem to demonstrate that they have been successful. As a special treat, for
those with a sweet tooth, they also offer authentic, handmade artisanal
pastries.
Chi Chi Vegan Taco Shop, 1 Moreland
Ave. SE, Ste. F, Atlanta, GA 30316
Anything in a taco
is always delicious and the tacos at Chi Chi's are no exception. The menu is
loaded with familiar Mexican dishes that are always favorites, such as epic
nachos, tacos al pastor, and chick'n quesadillas. Wash your meal down with a
Mangonada – an authentic street-drink found in Mexico, typically made with
shaved ice and mango. Although this taqueria is only 708 square-feet, the pink-hued
exterior will catch your eye, creating a fun ambiance that is great to enjoy
with friends or anyone who is a taco aficionado.  
The Cider House, 1602 Yew St.,
Vancouver, BC V6K 3E7 Canada
The Cider House
seems like a super welcoming, cheery place to go and get some drinks or sit
down and have some plant-based food. Just steps away from the beach, pick up
your grub and cold cider and take it to the sand. Their ciders are all local,
based out of British Columbia cider makers. Some unique items on their menu are
the Oyster Mushroom Calamari, the Limu Poke Bowl, and the Good Ol' Dirty Burger
made with their house patty and tomato jam. Try these out while enjoying the
family-feel environment where they promote community, connection, and kindness.
Creamo, 3534 Sunset Blvd., Los
Angeles, CA 90026
Creamo is a Los
Angeles hotspot for vegan ice cream and donuts. They are known for their wacky
and creative new milkshake flavors! Some of their fun milkshake names are Mint
Town, Strawberry Lab, Rudimentary Peanut, and Paramoreo. They don't stop at the
milkshakes, they also provide loaded donut ice cream sandwiches. Their most
popular is the Motion City Sandwich, which is two glazed donuts with vanilla
sprinkled ice cream in the middle. It's a super fun place to bring kids and the
rest of your family.
The Old Riverhouse Vegan Village, 301
SW 3rd Ave., Fort Lauderdale, FL 33312
Located in a mansion
built over 100 years ago, this restaurant offers vegan, eco-friendly American
cuisine to customers, but also is available for wedding and event reservations.
Enjoy dishes such as Avocado Toast, NoBones Wings, No-Harm No-Foul Chicken Sandwich,
Toona Tartare, and Smasharoo Smash Burger.
Original Herbivore Café, 13535
Ventura Blvd., Sherman Oaks, CA 91423
Known as a vegan
truck in Southern California, the Original Herbivore is now also a café that
focuses on vegan fried chicken! Items like buffalo chick'n sandwiches and
chick'n and waffles can be ordered online through the Original Herbivore
website or purchased at their storefront location in Sherman Oaks. They also
have a variety of desserts including baklava and lemon drizzle cake, and
appetizers too!
Wisdom Bakery and Café, 25192 North
Freeway, Ste. 103, Spring, TX 77386
Wisdom Bakery and
Café has a delightful and inviting atmosphere that is a judgement-free zone –
everyone is welcome, vegan or not. Some of their awesome dishes include a
Philly Cheese "Steak" Sandwich with vegan beef and mayo, a Wise Rib Sandwich
made from seitan, and even Candied Pecan Waffles. Their main reason for opening
up shop was to sell great vegan baked goods, like cookies, muffins, cupcakes,
and even beautiful birthday cakes for your next party! One unique offering
featured in their extensive drink menu is Kava Root – a specialty herb that has
been used for centuries. They have put hard work and passion into their recipes
and design of the place, so check them out!