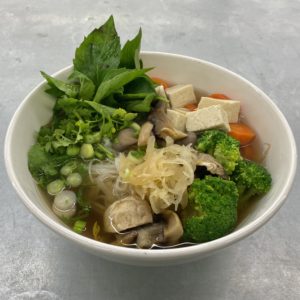 The Vegetarian Resource Group maintains an online Guide to
Vegan/Vegetarian Restaurants in the USA
and Canada.
Here are some recent vegan restaurant additions. The entire guide can be found
here: http://www.vrg.org/restaurant/index.php
To support the
updating of this online restaurant guide, please donate at: www.vrg.org/donate
Here are some new
additions to VRG's guide (Note: Due to the COVID-19 pandemic many are doing take-out
and/or delivery now):
Daily Veg, 113 E. Main St., Newark,
DE 19711 and 5335B Limestone Rd., Wilmington, DE 19808
You can order acai
bowls, milkshakes, and smoothies along with burgers, sandwiches, wraps, and
more at this restaurant. Their motto is to "Live life on the veg," and they
encourage it with amazing plant based options like the Impossible Cheeseburger,
the Daily Chick'n Deluxe, and Daily Cheese Fries. All smoothies and smoothie
bowls can also be customized with added toppings and ingredients!
Eat Nabati, 160 Baldwin St., Toronto,
ON M5T 3K7 Canada
Nabiti means
"plant-based" in Arabic, and the restaurant's name is part of the lighting
decorations that adorn its walls. Customers can choose from pita, rice, and
lentil bowls, to accompany dishes like vegan shawarma, Egyptian falafel,
Za'atar cauliflower, and koftar (Egyptian meatballs). To add on, they even
serve stuffed falafel!
Nirvana Tea House & Café, 969
Main St. Ste. 202, Millis, MA 02054
Nirvana Tea House
& Café aims to help you find your happy place through 42 different tea
flavors and vegan foods. All teas come from farms who prioritize environmental
awareness and proper care of their employees, and workers at the cafe are paid
a livable wage. The food menu is entirely vegan, and composed of different
bowls, salads, wraps, and small snacks like their extra popular Mediterranean
platter and chai crumble tea cake.
Raised By The Waves, Kahuku Sugar
Mill, 56-565 Kamehameha Hwy. #B9, Kahuku, HI 96731
They serve a variety
of nutritious, organic, locally sourced plant based food. The menu includes
Hawaiian coffees, smoothies, and other drinks, as well as bowls and salads and
assorted breakfast items. Check out their weekly specials as well. From their
website: "Our mission is to raise awareness about living a health conscious
lifestyle through our menu and dine in experience."
Shahar Café, 1511 Bardstown Rd.,
Louisville, KY 40205
Located in the heart
of the highlands, Shahar Café offers a variety of vegan fare that is sure to
make your mouth water. Favorites include the Vegan Burger and the Vegan
Legen-no-Dairy Fries. Along with other delicious menu items including the Vegan
Samosa and Chicken Sando, Shahar also provides espresso and latte drinks.
Additionally, breakfast items are also available, which include the Breakfast
Burrito Meal, as well as other breakfast sandwich options using Impossible
Meat, Just Egg, and vegan cheese.
ThaiBinh's Peaceful Eats, Grow DeSoto
Market Place, 324 E. Belt Line Rd., Ste. 202, DeSoto, TX 75115
Enjoy about 30
Vietnamese vegan menu items including homemade beverages, curries, noodle and
rice dishes, Pho, and more. From owner/chef ThaiBinh Ho "I can help people eat
vegan with my food and that's a win for the world".
V-odega, 140 Plymouth St. #140B,
Brooklyn, NY 11201
V-odega does one
thing and one thing right, serve you vegan comfort food. Between the melt in
your mouth Philly cheesesteaks to the loaded mac stack sandwiches, this
restaurant will have your mouth watering. It's located in the center of
Brooklyn, in the urban atmosphere. They are an all delivery restaurant and also
have a catering service for larger crowds. Have you ever tried a jackfruit Cuban
sandwich? You can at V-odega's because they have many unique vegan sandwiches
to pick from. It's the perfect place to go if you are trying to get your east
coast sandwich fix, but sticking to the all vegan diet.
VOWburger, 519 North Fairfax Ave.,
Los Angeles, CA 90036
Description of food
served/Special Features:  VOWBurger
specializes in plant-based burgers and breakfast items. Their menu is delicious
and will satisfy any craving for vegan versions of American food. Try the
VOWburger made with impossible burger meat and topped with tomatoes, lettuce,
pickles, onions, and a delicious homemade sauce. On the side, order curly fries
for a yummy and fun addition. For breakfast, try the VOWegg sandwich made with
JUST vegan egg and topped with cheese and green sauce. Be sure to order a side
of hash browns, you will not regret it! For a treat, order any of the almond
milk-based milkshakes. Our favorite is the Vowcookie monster featuring vegan
chocolate chip cookies. VOWBurger will not disappoint!