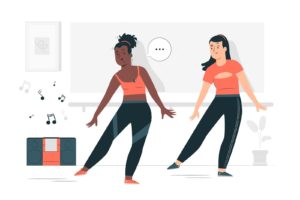 By Julia Stanitski, VRG Intern
Are you a dancer and wondering what vegan snacks are best to fuel you through the day? Well, you've come to the right place. Here are FIVE examples of fully vegan snacks you can eat before dancing, after you get home, or just whenever you feel like it!
Dried Fruit and Nuts
Dried fruits, such as dates, raisins, and mango, are incredible for dancers. It gives you quick energy to use, and is also so delicious! Nuts will keep you full, and you do not have to eat very many of them to feel satiated. So, try this combo out before you have dance class in the future! I like to fill a reusable container with this mix and keep it in my bag at all times.
I personally like heading into my nearest Trader Joe's to purchase these items, as I find they are cheaper there. But, they can be found at any local supermarket.
Avocado Toast with Tomatoes
Try spreading some mashed avocado on whole grain toast. Put some sliced tomato with salt & pepper on top to add texture. You can transport this in a container if you like, but it is best eaten fresh at home.
A great brand of bread to use is Dave's Killer Bread, because of the wholesome grains used and incredible flavor. I purchase Dave's Killer at Costco in a 3-loave pack for the best deal, but you can purchase your favorite bread at any grocery store! 
Hippeas Chickpea Puffs
Hippeas are such a great snack for after dancing. Did you know they are made from chickpeas? They're flavorful and have so many flavors to choose from, such as Vegan White Cheddar, Barbecue, Sriracha Sunshine, and more! They are basically the vegan equivalent of cheese puffs, but healthier. They come in both large family-size bags, and also snack bags that are great for on-the-go!
You can find Hippeas at Costco, Whole Foods, Wegmans (in parts of the east coast), and many supermarkets.
Granola with Coconut Yogurt
Have you tried coconut yogurt before? It goes perfect with almost anything – granola, cereal, fruit, and even on toast! Our recommendation is to pair this with your favorite granola (either homemade or store-bought), and eat it when you get home from dance. One granola that seems to have a wonderful mix of sweet and salty, and quality ingredients, is the Purely Elizabeth brand Chocolate Sea Salt Granola.
You can find Purely Elizabeth granola at Target, Walmart, Amazon, and many grocery stores. Granola is sold at most grocery stores, so take a look when you go shopping next and find your favorite one! Just make sure to read the ingredient list to ensure no animal products are included.
CLIF Builders Bars
These protein bars are great for anyone who exercises or moves their bodies a lot. You can take them along with you to dance class, eat them on the car ride home, or late night if you have a competition the next day. The bars will surely fuel you through your routine as they are super filling and taste like a candy bar. There are many flavors, such as Chocolate Peanut Butter, Chocolate Mint, Vanilla Almond, and more.
Find these bars at Target, Walmart, and most grocery stores.
Dancers, try these five snacks out and let me know how you like
them. Having a good diet as an athlete is sure to improve health, strength, and
lifestyle – especially when it's vegan!
For additional
information, ideas, and perspectives, see:
https://www.vrg.org/teen/#athletes

https://www.vrg.org/athlete/
The contents of this website
and our other publications, including Vegetarian Journal, are not intended to
provide personal medical advice. Medical advice should be obtained from a
qualified health professional. We often depend on product and ingredient
information from company statements. It is impossible to be 100% sure about a
statement, info can change, people have different views, and mistakes can be
made. Please use your best judgment about whether a product is suitable for
you. To be sure, do further research or confirmation on your own.