Posted on
September 15, 2020 by
The VRG Blog Editor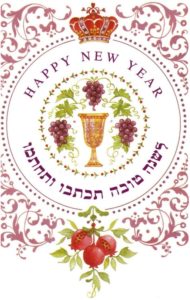 Rosh Hashanah begins the evening of September 18th, 2020.
Celebrate the Jewish New Year with these dishes from The Lowfat Jewish Vegetarian Cookbook, a vegan cookbook by Debra
Wasserman.
Polish Plum and Rhubarb Soup
(Serves 6)
1 pound plums, pitted and chopped
1 pound rhubarb, chopped
10 cups water
¼ cup plus 1 Tablespoon apple juice concentrate
¼ teaspoon clove powder
1½ teaspoons cinnamon
Place all the ingredients in a large pot and bring to a boil. Lower heat,
cover pot, and simmer for 20 minutes. Serve hot.
Turkish Mandarin Salad
(Serves 5)
Two 10½ ounce cans Mandarin oranges, drained
½ Spanish onion, peeled and finely chopped
¼ cup pitted black olives, chopped
¼ cup pitted green olives, chopped
½ teaspoon coriander
½ teaspoon paprika
Salt and pepper to taste
Toss all the ingredients together in a large bowl. Chill and serve over a
bed of lettuce.
Romanian Sweet Pasta
(Serves 8)
1 pound eggless pasta
12 cups water
1 cup maple syrup
½ cup walnuts, ground or 1/3 cup poppy seeds, ground
½ teaspoon lemon rind, minced
1½ cup raisins
½ teaspoon clove powder
1 teaspoon cinnamon
Cook pasta in boiling water until done. Drain.
Heat maple syrup and walnuts or poppy seeds in a large pot over medium heat
for 2 minutes. Add lemon rind, raisins, clove powder, and cinnamon. Stir and
continue cooking for 3 more minutes. Add cooked pasta. Mix well and serve warm.
Note: You can also pour the mixture into a baking dish and bake at 350
degrees for 20 minutes before serving.
You can purchase The Lowfat Jewish
Vegetarian Cookbook with all vegan recipes here: https://www.vrg.org/catalog/