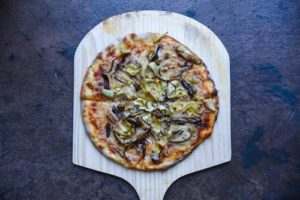 The Vegetarian Resource Group maintains an online Guide to
Vegan/Vegetarian Restaurants in the USA
and Canada.
Here are some recent vegan restaurant additions. The entire guide can be found
here: http://www.vrg.org/restaurant/index.php
To support the
updating of this online restaurant guide, please donate at: www.vrg.org/donate
Here are some new
additions to VRG's guide (Note: Due to the COVID-19 pandemic many are doing take-out
and/or delivery now):
Blossom on University, 72 University
Pl., New York, NY 10003
Enjoy Crispy
Artichokes, Tuscan Kale, Seitan Piccata, Lasagna, Tofu BLT, Blossom Burger,
Wild Mushroom Pizza, Tiramisu, Chocolate Ganache, and much more.
Blue Pearl Café, 44 Rittenhouse Pl.,
Ardmore, PA 19003
Blue Pearl Café is a
cute and quaint café located right outside of Philadelphia. It provides a fully
vegan menu with smoothies, cold-pressed juices, noodles, and organic bowls.
Their denser meals can range from a colorful dragon fruit bowl to a kale Waldorf
salad. They have a large variety of unique flavors in smoothies and all are
made with fresh fruit, a protein, and either hemp or almond milk. Not only do
you get to slurp down on the smoothies, Blue Pearl is also known for their
diverse menu of juices.
Callicoon Kitchen, 1601 Hilltop West
Shopping Center, Virginia Beach, VA 23451
Callicoon Kitchen
offers fast, casual dining with counter-service. You can eat on their 14 seat
outdoor patio or take your meal to-go with available curb-side service. They
also offer a selection of menu items already packaged and ready for grab-and-go.
All of their menu items are made on premises from scratch. They offer healthy
salads and noodle dishes; delicious sounding soups; unique sandwiches and
wraps; interesting burgers and tacos; fresh baked dessert items including New
York Style Black & White Cookies that look spectacular; and a special kid's
menu. They also offer catering services. Co-founder Ron Badach is something of
a celebrity having showcased his Classic Black Bean Burger on ABC's The CHEW in
2013.
Emy Delights & Bites Café, 4322
Albany Post Rd., Hyde Park, NY 12538
Emy Delights &
Bites Café was opened by Culinary Institute of America graduate Emily Horta.
Emily started in business with EMY D's Allergy Friendly Desserts and has
expanded her food palette to include breakfast and lunch. All products are made
without soy, wheat, gluten, dairy, eggs, tree nuts, peanuts, and sesame. Along
with delicious handmade gourmet chocolates, Emy's also offers many grab and go
options as well as outside seating. The menu has salads; a variety of Hummus,
Avocado and "Sweet" Toast offerings; sandwiches; and smoothies and smoothie
bowls. The real stars, it seems to this reviewer, are Emy's amazing desserts,
which vary from day to day.   
Neon Tiger, 654 King St., Charleston,
SC 29403
Neon Tiger offers
vegan pizzas on regular or gluten-free crust, salads, sides, wines, and organic
and local beers. Customer favorites include their vegan fried shrimp served
with a chipotle aioli, the formaggio and champignon pizza, and their new frosé
mule. The pizzeria is currently offering take-out and outdoor seating, while
preparing to open their dining room and offer an expanded menu soon.
Pizzeria Grano, 3240 Main St.,
Vancouver, BC V5V 3M5 Canada
Pizzeria Grano on
Main Street serves fully plant based pizzas, desserts, and antipasto, allowing
customers to pick from a variety of tomato base, oil base, or garlic base
pizzas. Customers can even personalize their vegan pizzas with toppings ranging
from plant-based sausage, to zucchini, to whipped potato, to cashew mozzarella,
to many more! Also, all 'cheeses' are plant-based and hand-crafted and locally
sourced, and pizzas are baked in a traditional brick oven.
Vegan Avenue, 2512 N. Main Ave., San
Antonio, TX 78212
Vegan Avenue serves
vegan twists on classic dishes. The menu is incredibly diverse ranging from
Tres Leches pancakes to enchiladas. You must order the Tres Leches Pancakes for
breakfast. This dish combines fluffy pancakes with fresh berries, plant-based
milk, and whip cream. For lunch or dinner, we recommend ordering the mac and
cheeze skillet, a combination of farfalle, cheeze sauce, tempeh bacon, and
chives all served in a cast iron dish. If you are looking for a dish on the
lighter side, order the rise and shine smoothie bowl. This smoothie features
pitaya, strawberry, and mango. It is topped with granola, fresh fruit, coconut,
and chia seeds. To drink, order the dragon fruit lemonade is refreshing.