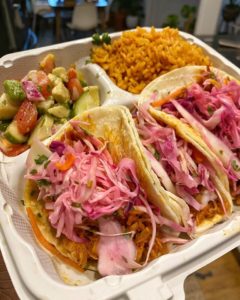 The Vegetarian Resource Group maintains an online Guide to
Vegan/Vegetarian Restaurants in the USA
and Canada.
Here are some recent vegan restaurant additions. The entire guide can be found
here: http://www.vrg.org/restaurant/index.php
To support the
updating of this online restaurant guide, please donate at: www.vrg.org/donate
Here are some new
additions to VRG's guide (Note: Due to the COVID-19 pandemic many are doing take-out
and/or delivery now):
Belenty's Love, 3516 Bluebonnet Cir., Fort Worth, TX 76109 and 2200 E. US Hwy. 377, Granbury, TX 76049
Belenty's Love
serves a large assortment of vegan Mexican food including breakfast all day,
salads, tacos, and smoothies. For breakfast order the tofu and potatoes
breakfast burrito or the blueberry French toast made out of thick Texas toast.
For lunch or dinner, try the cauliflower wings served with celery and covered
in delicious barbeque sauce. For your main dish, order the enchilada plate
topped with cheese and tasty sauce. This plate also comes with lentil soup,
black beans, and a small side salad. The enchiladas are mouthwatering and
filling. Another great option is the "ceviche": 2 tostados topped with
mushrooms, tomatoes, red onion, avocado, and cheese. Be sure to order one of
their delicious smoothies. For dessert, try the sopapilla with fruit, the
Mexican version of a donut or beignet. This delicious fried dessert will be the
perfect end to your meal. 
Boca Loca, 906 Sewall Ave., Asbury Park, NJ 07712
Boca Loca
specializes in vegan Latin fusion food. They serve features delicious and
organic vegan twists. Order the Supremo: a soft tortilla stuffed with tofu,
black beans, cashew queso, guacamole, lettuce, tomato, onion, and crunchy
tostada. You will savor this delicious burrito-type creation. Another great
option is the La luna: an arepa sandwich stuffed with guacamole, beans, cabbage
slaw, cashew chipotle aioli, plantains, and salsa. On the side order the
plantains. For dessert, try the Peruvian donuts. A delicious version of a donut
made with sweet potato and calabaza squash, served with brown sugar syrup.
BunkHouse Coffee Bar, 3181 NE West End Blvd., Jensen Beach, FL 34957
BunkHouse Coffee Bar
is more than a café, it's an entirely plant-based shop serving coffee,
smoothies, acai bowls, and various gluten-free baked goods. Handcrafted coffees
are made with an array of plant-based milk options, and special flavors that
rotate with the seasons. Outdoor seating allows you to enjoy the weather, while
indoor seating offers private chairs and workstations.
Desmond's Island Soul Grill, 977 Reon Dr., Ste. 102, Virginia Beach, VA 23464
Looking for some
fresh, vegan Caribbean style food? Check out Desmond's Island Soul Grill is
offering everything from small bites, to entrées, to sides. Try the Lentil
Burger, Rasta Pasta, the Eggplant or Pumpkin Curry, or the Fried Krabcakes. The
prices are reasonable and the portions are huge!
Gigi's Vegan + Wellness Café, 1103 Westport Rd., Kansas City, MO 64111
Gigi's aims to
provide all the pillars of sustainability by being conscientious of the
environment, community, and animals! From cold press juices, organic smoothies,
to lunch bowls Gigi's aims to provide zero-waste biodegradable packaging and
provides incentives to customers who return glass packaging! They also provide
meal-prep services where they make three balanced meals ready to be served
after warmed! For beverage options, try out morning glory cold press or the
green goddess smoothie! Some other meal options include the rainbow salad,
cosmic pizza, or the holy macro bowl.
La Bartola, 588 College St., Toronto, ON M6G 1B3 Canada
La Bartola's menu is
delicious and diverse. To start, order the herbed guacamole served with poblano
pepper tostadas. This guacamole is creamy and tasty. For your entrée, enjoy the
jackfruit and mushrooms al pastor served with fresh pineapple, cilantro, onion,
and salsa roja. Another great option is the broccoli tamale with tomato sauce
and pitiona. Both the taco and tamale are delicious combinations of spices and
flavors. For dessert, try the decadent chocolate cake with pink peppercorn and
cinnamon and a café con leche.
Vegan AF, 291 Central Ave., Jersey City, NJ 07307
Recognizable by
signature paintings both within and outside the restaurant walls, Vegan AF
welcomes residents of The Heights in Jersey City, NJ. With a variety of vegan
dishes available, Vegan AF's menu also features a "Mexican Corner" with
quesadillas, burritos, tacos, and more. They also serve personalized salads,
burgers, hot dogs, and breakfast foods like pancakes.