Posted on
August 24, 2020 by
The VRG Blog Editor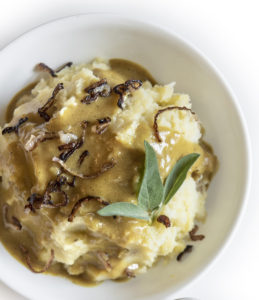 By Rissa Miller, Senior Editor Vegetarian Journal
(Serves 4)
5-6 Yukon Gold potatoes, skins-on, cubed
½ cup to ¾ cup potato cooking liquid
½ cup unsweetened, unflavored vegan milk
Salt and pepper, to taste
Add cubed potatoes to a large cook pot and cover with water.
Bring to a boil and cook for 30-40 minutes, until potatoes are fork-tender. Put
aside 1 cup of cooking liquid before draining potatoes. Once drained, return
cooked potatoes to cook pot and add ½  cup cooking liquid and ½  cup vegan milk. Using a potato masher, sturdy
fork or electric mixer, mash the potatoes and blend with liquid to desired
texture. If smoother, creamer texture is desired, add more of the cooking
liquid and re-mash. Season to taste with salt and pepper. Serve warm.
Cook's Note: These
potatoes are wonderful with various add-ins such as a teaspoon of garlic powder
or onion powder, chopped fresh parsley or chives, or even a palm full of
nutritional yeast.