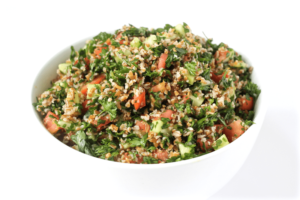 By Tamir
Stahler
Even though overseas travel generally has been put on hold
in recent times, our aspirations to one day get back to seeing the world after
Covid-19 have not. If your future travel plans include Israel, you must be sure
to fully indulge in the food. Mediterranean cuisine is not only among the healthiest,
but also most delicious in the world. If you are a vegan, then you are in luck.
There is a plethora of Israeli and Palestinian local dishes which are friendly
to a vegan diet. Below I'll be discussing exactly what you should look forward
to ordering and some tips on how to make that order happen in a bustling
environment where American standards of patience in the service industry are
non-existent.
Let's cover some
basics which likely you know already.
Hummus –
a dip made from chickpeas,
olive oil, garlic, sesame oil
Falafel
– a deep-fried ball or patty made from ground chickpeas, fava beans, or both
Babaganoush
– a dip made from mashed cooked eggplant, olive oil, sesame oil, spices
Foods for more seasoned surveyors of
Middle Eastern Cuisine
Shakshouka
– a dish of eggs* poached in a sauce of tomatoes, olive oil, peppers, onion,
and garlic, and commonly spiced with cumin, paprika, cayenne pepper, and nutmeg
(*while this dish traditionally includes poached eggs on top of the dish, have
no worries as you can order it without eggs)
Tabbouleh – a
salad made from bulgur,
chopped onions, mint, garlic, parsley, lemon juice
Fatoush
– salad made from toasted or fried pieces of khubz (like
pita chips) combined with mixed greens and other vegetables, such as radishes
and tomatoes 
Fuul – a
stew of cooked fava beans served with vegetable oil, cumin, and optionally with
chopped parsley, garlic, onion, lemon juice, chili pepper, and other vegetable,
herb, and spice ingredients
Za'atar
– a spice mixture that includes the herb Za'atar itself along with toasted
sesame seeds, dried sumac, often salt, as well as other spices
Even more advanced food options
Sabich – an Iraqi Jewish dish of pita or laffa stuffed with fried eggplant, hard boiled eggs*, salad, parsley, amba (Tangy Iraqi Jewish sauce), and tahini sauce (*this can be ordered without egg as well)
Aaleye
– a Palestinian dish in a sauce form consisting of cooked tomatoes, onions, hot
peppers, and spices
Kibbeh
– stuffed balls of bread; the vegetarian kind being stuffed with vegetables and
nuts
Mulkhiya
– a soup made from the Mulkhiya plant also called Jew's Mallow (*be sure to
inquire if chicken stock is in their recipe)
Malawach
– A Yemenite Jewish dish of fluffy filo dough with various spices and toppings
added and wrapped
Some Tips
Most of these foods you will be able to order on the street. Many establishments where you see shawarma will also be a place to find falafel. Sabich and malawach are less common but also sold on the street. In some instances, malawach may be referred to as jahnun (it can be confusing). 
For kibbeh, mulkhiya, shakshuka, fuul, tabbouleh, and fatoush you will likely have to find a traditional restaurant.
Because the food industry in Israel is dominated by kosher
customers, almost every restaurant is certified kosher in order to stay in
business. What does this mean for you? There is a law in Judaism that no dish
can mix dairy and meat products. This serves as a very easy to remember
guideline for vegetarians as you can be confident that if you see dairy on the
menu, there will never be meat at that restaurant; however, there can be fish. Vice
versa, there won't be dairy in sauces at a kosher meat restaurant.
When ordering, especially from a street vendor, remember
that lines do not really exist in Israel. While there may be something
resembling a line forming, the reality is that in no way does that line
function properly. It is common for friends of the vendor or strangers to hang
out in front of street shops and often they appear to be customers because they
are eating the food. Simply ignore them and say excuse me while you step in
front of the vendor and assert that you want to order.
Additionally, you can also hang out and eat food there too!
It is not seen as rude or unclean to take samples of the toppings being offered
by vendors and you should always accept the offer to try a free ball of
falafel. They love to show off their culinary skills and it is rude to refuse.
Most foods will be made very quickly, but in the event that your food is being
prepared and you notice yourself drowning in the sea of people filing into the
store, be sure not to move. If you are standing in front of the register or
directly blocking someone from ordering, move over a bit. Under no circumstances
should you do the American standard of walking back to the front of the
restaurant and finding a table to wait at. You will never get your food. Stand
exactly where you are and let the natural process of overcrowding encourage the
cooks to move fast and the server to find you.
These small tips will give some legs to any traveler new to the
food scene in Israel. The delicious vegan-friendly cuisine in Israel is
something to chase down and enjoy. Don't forget to have a strong glass of
coffee with your meal and grab a seat while you eat. Take in the atmosphere and
enjoy the country!
Tamir is fluent in Arabic,
Hebrew, and Spanish. He has traveled to Israel on numerous occasions.