Posted on
August 17, 2020 by
The VRG Blog Editor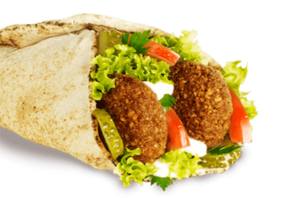 By Lucia Rivera, VRG Intern
Here are the top five vegan dish favorites of some VRG interns attending different universities in the USA. We interviewed one of our interns at each school. 
At Cornell
University (located in Ithaca, New York):
Tofu stir-fries
Vegetarian sushi
Burrito nights
(rice, beans, and guacamole)
Lentil and
potato stew
Poke bowls
At Iowa
State University
(located in Ames, Iowa):
At Heaping
Plato: Build your own bowl with turmeric rice, falafel, and toppings
At Heaping
Plato: Build your own entrée with Pita, spicy falafel, and toppings
At Clydes: Vegan
falafel burger
At The
Roasterie: Sesame Tofu Wrap
At Clydes: Plain
bagel with peanut butter and a fruit cup
At Johns
Hopkins University
(located in Baltimore, Maryland):
Fruit and
SunButter
Veggie burger
with salad
Vegan stir-fry
noodles
Customizable
salad bar (faro, mixed greens, bell peppers, cucumbers, carrots, chickpeas,
sunflower seeds, and olives).
At North Carolina State University (located in Raleigh, North Carolina):
Fresh Sweetened
Peanut Butter with Banana on Toast
Cereal with Soy
Milk
Mushroom
Portabella Burger
Red Lentil Dal
Black Bean Soup
At University
of North Carolina Chapel
Hill:
Beyond
Burger with lettuce, tomatoes, pickles, onion, and ketchup with fries on the
side
Build
Your Own Burrito Station (Rice, beans, lettuce, tomato, salsa, avocado, and
chips)
Rainbow
Vegetable Curry with basmati rice (with added tofu)
Roasted
sweet potato with black beans, tomato, and hummus
Falafel
wrap with pita, falafel, lettuce, tomato with Greek salad and hummus side
Clare Broud, a
student at UNC Chapel Hill advises about variety as a vegan college student.
"The biggest tip for any college student eating at a dining hall is to find
ways to have variety.  If you're eating
in the dining hall all year, no matter [what] your diet, you will get tired of
the food; that's just how dining hall food works. But changing up what you eat
can help curb the monotony. At some
schools, students also are able to make their own vegan dishes, or find great
options at restaurants on campus!" Broud said.
For example, here are some
options to make yourself, as one college student did at the University of Maryland
(located in College Park, Maryland):
Refried beans
(sautéed mashed beans with spices) and vegetables in a wrap
Lentil/chickpea
pasta with sauce and veggies
Overnight oats
with fruit and nut butter
Big salad with
homemade Caesar salad dressing
Tofu veggie
stir-fry
At the
University of Minnesota Twin Cities, restaurants on campus serve these vegan
options:
At
Mim's Cafe: Falafel sandwich—pita wrap with crispy fresh falafel, hummus,
lettuce, tomato, onion, and pickled red cabbage
At
Mim's Cafe: Falafel Plate—Hot crispy falafel with your choice of toppings, rice
or hummus or fresh french fries
At
Teahouse: Kung pao tofu—crispy tofu lightly covered in a chili sauce with bell
peppers, peanuts, onions, and rice on the side
At
the Afro deli: Sambusa vegetarian—seasoned potatoes wrapped in a dough and
fried to crisp
At North Carolina State
University even the
library serves vegan cinnamon almond cookies! Whether it be through a dining
hall meal plan, on-campus restaurants, or a personal kitchen, college students
are fully able to pursue their academic passions while enjoying a variety of
vegan dishes.
Here are some past opinions
of college students.
https://www.vrg.org/journal/vj2013issue1/2013_issue1_college_survey.php