Posted on
July 30, 2020 by
The VRG Blog Editor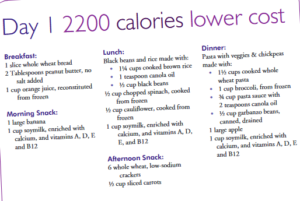 Christine Kasum Sexton, MPH wrote
an article for The Vegetarian Resource Group titled "Vegan Menus for Adults
51+" to meet the needs of older vegans. These easy-to-prepare menus are designed
specifically for older vegans (51+ years). Four different calorie levels –
1600, 1800, 2000, and 2200 – are presented in order to meet the needs of men
and women of varying activity levels and budgets.
Read the article here: https://www.vrg.org/seniors/veganmenusfor51+.pdf
To subscribe to Vegetarian Journal in the USA, see: https://www.vrg.org/member/2013sv.php
You can also subscribe to the Kindle version of
Vegetarian Journal in the USA
and United Kingdom.
In the USA,
visit: https://www.amazon.com/dp/B07LBY2Y7K/ref=sr_1_1?ie=UTF8&qid=1544727482&sr=8-1&keywords=B07LBY2Y7K
 In the United Kingdom, visit: https://www.amazon.co.uk/dp/B07LBY2Y7K/ref=sr_1_1?s=digital-text&ie=UTF8&qid=1544731957&sr=8-1&keywords=B07LBY2Y7K